Mcdonalds On Teutonia And Goodhope
Restaurants come and go, and Milwaukee has had countless eateries across its nearly two centuries of history as an urban place. Here are some images of a few of them.
Some you may remember, others may have faded like a ghost sign on an old Downtown building. Some are ill-suited to contemporary sensibilities and rightfully relegated to the past.
The victims, all from Washington County, pulled into a McDonald's at W. Good Hope Road and N. And at first told police they were random targets, but later admitted they had just left. McDonald's - 7170 N Teutonia: 7170 N Teutonia (414) 352-6585: McDonald's - 7451 W Appleton Ave: 7451 W Appleton Ave (414) 463-7332: McDonald's - 76th And Good Hope Rd: 76th And Good Hope Rd (414) 760-8927: McDonald's - 8100 W Brown Deer Rd: 8100 W Brown Deer Rd (414) 354-3140: McDonald's - 8220 W Hampton Ave: 8220 W Hampton Ave.
Located at Aurora Health Center-Milwaukee, Good Hope Rd. 3003 W Good Hope Rd Milwaukee, WI 53209. Phone: 414-352-3100. Location type: Clinic.
Old custard stands
There have been quite literally dozens of custard stands dotted around the Milwaukee landscape since Joe Clark introduced the delectable egg-infused ice cream to Brew City at his eponymous Capitol Drive custard stand in 1935. Folks who remember them remain loyal even decades after the Custard King machines have stopped extruding ribbons of goodness. Here are a couple matchbooks for Al's (which later became Jessica's) and Jimbo's (the building was later home to Champion Chicken before it settled into its current digs), courtesy of Chris Roepke, whose dad bought Bob's Airport Custard and transformed it into Roepke's Airport Custard, and, later, the Nite-Owl, which Chris still operates.
Blackamoor Room
Mcdonalds On Teutonia And Good Hope Rd
Located in the Wisconsin Hotel, 720 N. Old World 3rd St., the Blackamoor Room (named for a controversial style of European decorative art that depicts people of color) was, according to a 1940s postcard, 'the cafe lounge where smart people are entertained.' Another ad noted that the Blackamoor Cocktail Lounge was 'where soft music, refreshing cocktails and fine food are part of an intimate atmosphere.' These days, the hotel is apartments and Blackamoor is the name of the building's ballroom. Among the many performers who appeared there was pianist Fletcher Butler, 'society's and cafedom's favorite.'
Hotel Wisconsin's Circus Room
The Circus Room appears to have operated in the Wisconsin Hotel at the same time as the Blackamoor Room and looking at the image above, I wonder if it became the C-Club (which would explain the 'C' part of the name) in the hotel's lower level. According to an ad for the place, the Circus Room was 'where a gay and colorful setting compliments a delicious dinner (5:30 to 9) ... the dancing and entertainment (until closing).'
Mammy's Plantation
This one (which I have mentioned here before) seems alarming to me now, but I have to think it must have appeared less so (hard as that is to imagine) back when this ad ran in the early 1960s, because even respected pianist and singer Martha Artis performed there. The place, on 22nd and Capitol, was run by former amateur boxer Billy Goodsitt and his brother-in-law Charles 'Buckets' Goldenberg, who played for the Packers in the 1930s. The late Gene Wilder mentioned the place in his autobiography, without flinching at the name, but pointing out that the menu referred to spare ribs as 'pig on the cob – our specialty.' An undated menu (that appears to be from the 1940s or '50s and notes that 'all foods cooked in butter') lists the barbecued spare ribs, with slaw, french fried potatoes, relishes, rolls and butter for 65 cents. Billy and Buckets also had a place called Pappy's on Port Road. I can safely say I'm happy this one is gone.
Public Natatorium Bar and Restaurant
(PHOTO: Courtesy of OldMilwaukee.net)
Opened in 1979 in the former near South Side indoor swimming hole designed in 1894 by architects Schnetzky and Liebert, the Public Natatorium Restaurant, 1646 S. 4th St., was best known for keeping dolphins in the old pool and offering five dolphins shows a day. An old menu from the place notes that the dolphins swam in 144,000 gallons of water, which was an expensive proposition. Twenty percent of the water had to be changed daily and the water required 10,000 pounds of salt. Then there were weekly water sample tests, purifying chemicals, daily pool cleaning, smelt to feed the dolphins, medicines, veterinary bills and more. No wonder the place couldn't survive. You'd have to sell a lot of $8.95 Sicilian steak sandwiches to stay afloat. The restaurant went bankrupt in 1984.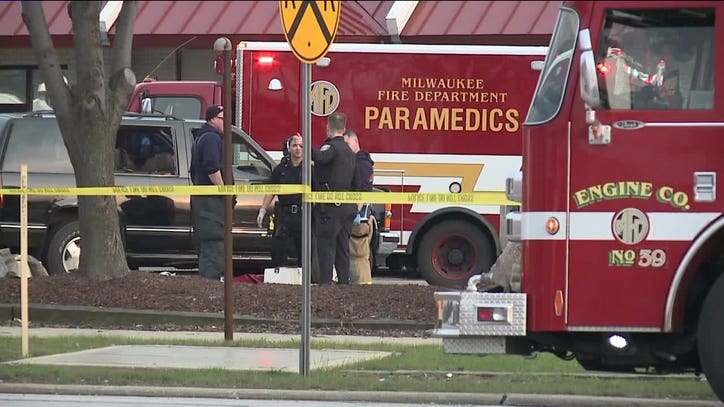 Skelly's
Mcdonalds On Teutonia And Good Hope Mills
Skelly's was located at 622 W. Wisconsin Ave. and served breakfast, lunch and dinner in its four dining rooms. It also was a popular place for meetings and banquets. There was also a bakery and a soda fountain inside. For a while a second location was at 7022 W. Greenfield Ave. in West Allis. Though the places are gone, a sign remains painted on the rear of the building at 6th and Wisconsin. It was open in the 1950s and '60s and likely earlier and later, too.
Mcdonalds On Teutonia And Good Hope Nj
Frenchy's
Frenchy's was an East Side landmark, which was run by Paul LaPointe, at 1901 E. North Ave., where Beans and Barley now stands. There was also an attached Bulldog Pub below. The restaurant served a mix of French and American specialties and featured waitresses dresses as French maids. A 1960 menu shows a variety of unexpected items, including racoon, 'Norwegian reindeer,' moose and partridge, and other menus reportedly offered lion and 'African hippopotamus.' Frenchy's also had a hoppin' jazz scene and recordings made there by Albert Ammons and Pete Johnson can be found online.
Stouffer's Top of the Marine
Stouffer's, now best known as a frozen foods brand, began as a restaurant in Cleveland in 1924 and slowly expanded to other markets. In the 1960s, it opened a series of 'Top of' restaurants, including the Top of the Marine in Milwaukee's then-new Marine Bank (now Chase) Building, 111 E. Wisconsin Ave. The verso of the postcard pictured above noted that the restaurant, 'features the most spectacular view of Milwaukee by day or night (from 22 stories up!) Enjoy delicious Stouffer food and drink in the atmosphere of the famous old Great Lakes paddle-wheel luxury steamers!'