Saint Asonia Flawed Design Deluxe Edition
NEW VERSION FEATURES TWO NEW SONGS
Saint Asonia, featuring former Three Days Grace frontman Adam Gontier and Staind guitarist/founding member Mike Mushok, have released the deluxe edition of 2019's sophomore effort Flawed Design. The new version features two additional songs: "Say Goodbye" and "Weak & Tired."
The digital deluxe edition is available here via Spinefarm Records.

FLAWED DESIGN DELUXE EDITION TRACK LISTING:
"Blind"
"Sirens" (Featuring Sharon den Adel)
"This August Day"
"The Hunted" (Featuring Sully Erna)
"Ghost"
"Beast"
"The Fallen"
"Another Fight"
"Flawed Design"
"Justify"
"Martyrs"
"Say Goodbye"*
"Weak & Tired"*
*New songs
From the new album FLAWED DESIGN available October 25thOrder the album here: video by Saint Asonia performing Th.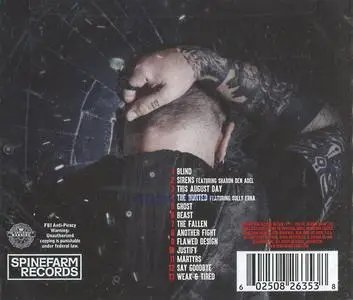 Saint Asonia Flawed Design Review
Saint Asonia Release "Flawed Design" Deluxe Edition with Two New Singles. Saint Asonia Release "Flawed Design" Deluxe Edition with Two New. Saint Asonia, Category: Artist, Albums: Flawed Design, Flawed Design (Deluxe Edition), Saint Asonia, Singles: This August Day, Beast, The Hunted, I Don't Care Anymore, Trying To Catch Up With The World, Top Tracks: Blind, The Hunted, Let Me Live My Life, Better Place, I Don't Care Anymore, Biography: Time encourages growth. It allows for bonds to strengthen, visions to clarify, and statements.
Saint Asonia Songs
Since their emergence in 2015, Saint Asonia quietly positioned themselves to progress and push hard rock forward in the process. Founded by Adam Gontier [vocals, guitar] and Mike Mushok [lead guitar], the band pivoted from the multiplatinum chart-dominating success of the two musicians' histories in Three Days Grace and Staind, respectively, and stormed new territory on their self-titled full-length debut, Saint Asonia. Upheld by an unshakable foundation of off-kilter grooves, pummeling guitars, scorching solos, and searing songcraft, Loudwire christened them, "Best New Artist," at the Loudwire Music Awards as their rise would be covered by Alternative Press, AXS, Tattoo, and more. Within a few years, total streams crossed the 50 million-mark with "Better Place" and "Let Me Live My Life" both cracking 10 million on Spotify. After making their debut at a surprise, unannounced performance at Rock on The Range in 2015 before a sold-out audience, they toured with everyone from Seether, Breaking Benjamin and Disturbed to Mötley Crue and Alter Bridge in addition to making appearances at Welcome To Rockville, Fort Rock, and beyond.